Catalyst 2030 Awards
For Systemic Change
The making of Sourmandal
Behind the scenes of Catalyst 2030 trophy
Greetings from Ekibeki!
Ekibeki means oneness of interests, sentiments, pursuits among different groups or entities. True to our name, we believe in achieving balance by bringing together things that have traditionally been perceived to be at odds with each other. We as a social enterprise aim to preserve, rejuvenate and grow the rich craft heritage of India by creating livelihood at scale.
As a founding member of Creative Dignity, a network for the handmade ecosystem in India, we got the opportunity for the creation of this year's Catalyst 2030 award trophy which we like to call the Sourmandal!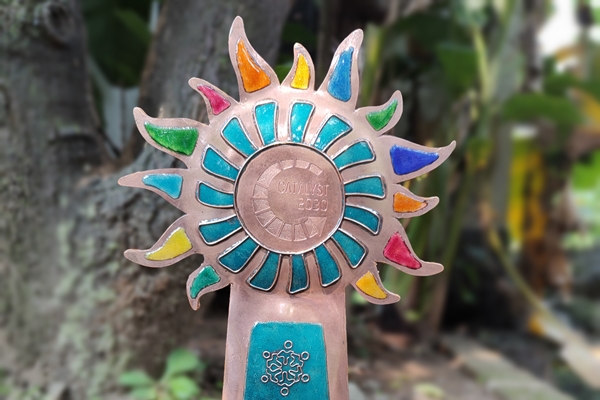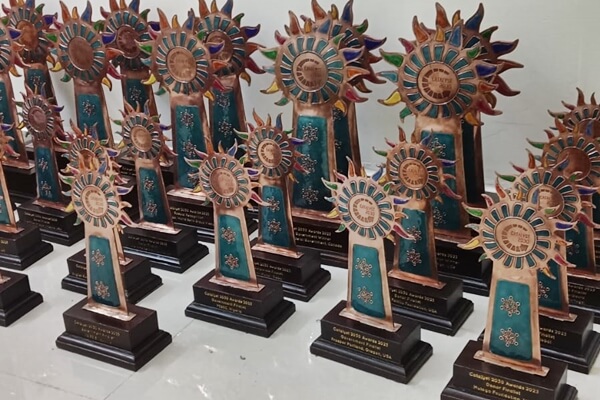 Handcrafted and developed in the craft of copper enameling, the Sourmandal draws inspiration from our solar system, with the sun at the epicenter keeping all the planets and their moons in perfect harmony, centering the community requires building a whole ecosystem to surround and sustain it. The sun's power of illumination guides us away from darkness and towards prosperity; in the same vein, this approach of keeping the community as the focal point, will help us dispel the darkness surrounding us and progress towards our very own future: achieving and sustaining SDG goals.
The trophy is made using recycled and scrap copper pieces from factories. These pieces are shaped by hand and then powdered coloured glass is applied as per the requisite design. This assembly is heated multiple times and finally cleaned with dilute acid wash. It is then buffed and lacquered so as to avoid oxidation of copper and to create a visual and tactile treat with its vibrant hues and rich textures.
Our team of artisans from Bhaimala in Alibag along with our designers have lived, laughed, worked and eaten together like one 'community' to create this award for the Catalyst community.
Photos of the design process